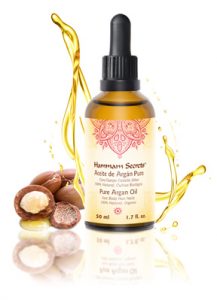 We have all kinds of products made with argan oil, such as natural soaps, lip balms, face masks and many more.
The New York Tilmes described it as "The last miracle ingredient". Not surprisingly is called "The liquid gold of Morocco". Argan oil is composed in a 80% of unsaturated fatty acids. The most important are oleic and linoleic acids, present in 45% and 35% respectively. Argan oil is one of the richest oils in unsaturated fatty acids, much more than olive oil. The proportion of tocopherol is far superior to other oils. They are natural antioxidants and vitamin precursors. The antioxidant is a molecule capable of slowing or preventing the oxidation of other molecules caused by free radicals.
Argan oil also contains phytosterols, plyphenols, sterols and triterpene alcohols with anti-inflammatory and antioxidant properties.